l. to r., Roman Lappat, me, Raffaele Picca
It's been a while since I posted to the blog. One reason for the hiatus was due to spending a good chunk of free time preparing for the trip of a lifetime: a week-long visit with Raffaele Picca and Roman Lappat, at the Massive Voodoo studio in Augsburg, Germany.
Augsburg, Germany
The trip has been in the works for over 4 months. The idea evolved indirectly from conversations I was having with Raffa concerning the prospect of purchasing some pieces that he had posted for sale. Eventually, that idea morphed into a momentous vacation plan -- a week of private coaching with Raffa in Germany!
Roman artifacts.
Including the official symbol of Augsburg, which I mistook to be a "pineapple", to the chagrin of the natives.
Roman ruins.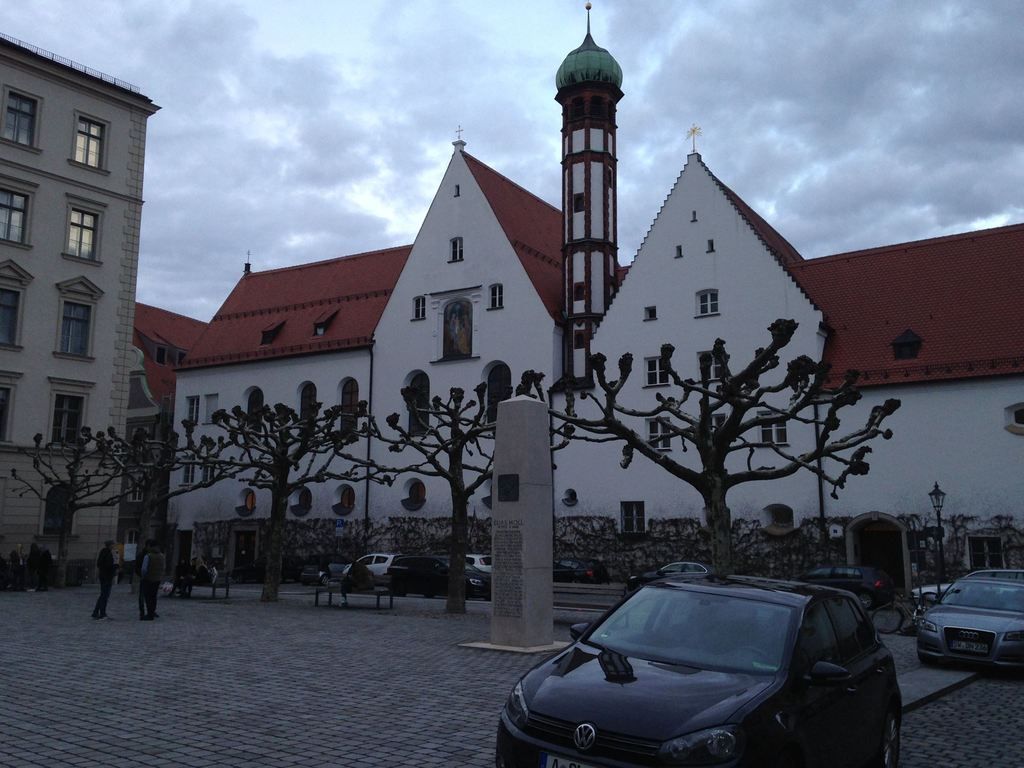 Some bizarre trees.
Lockers for personal beer steins, at the local brewhouse.
The week started with an inspirational sidetrip to Ingolstadt, location of the Duke of Bavaria figure show and competition. Visiting the show was an ideal, low-pressure way to both acclimate to Germany and to ease my mind into painting-mode.
On the way to the castle, where the Duke of Bavaria miniatures show was held.
The high-ground entrance to the castle.
The gathering ground for smoking and socializing.
Bronze cannon. The second one rolled a '1' on the Misfire Table...
A European miniatures art show is everything I imagined it would be. High art, high class, and friendly community spirit. The vibe was invigorating. There were hundreds of pieces, by dozens of artists of all ages and walks of life. There was fair representation for both historical and fantasy/sci-fi pieces. The vendor hall was a gold-mine of variety and quality. And hosting the show in a beautiful castle intensified the grandeur of the event. I left the show chomping-at-the-bit to start painting!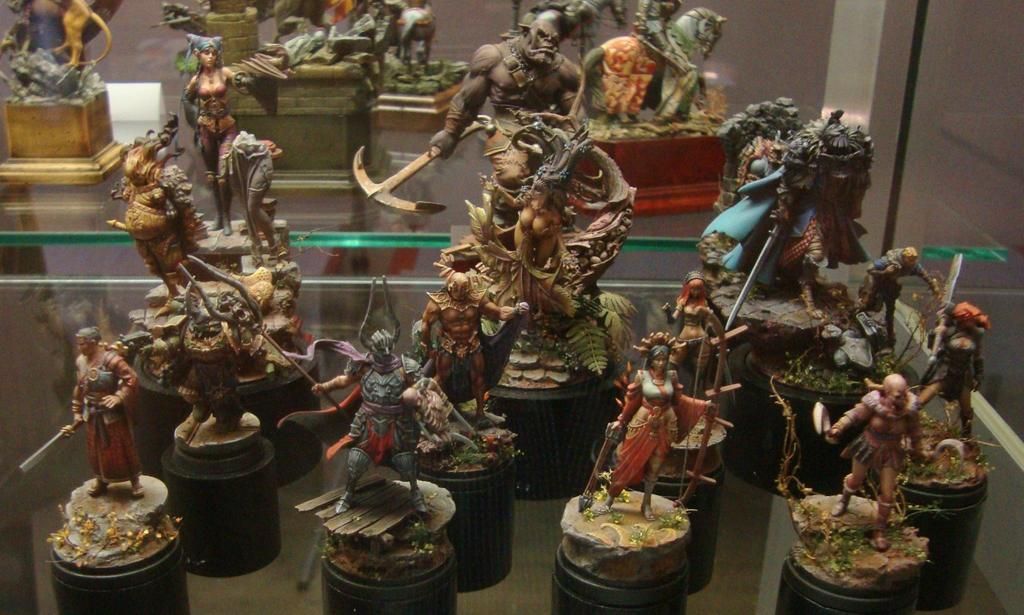 Judge's Display for Sascha Buczek.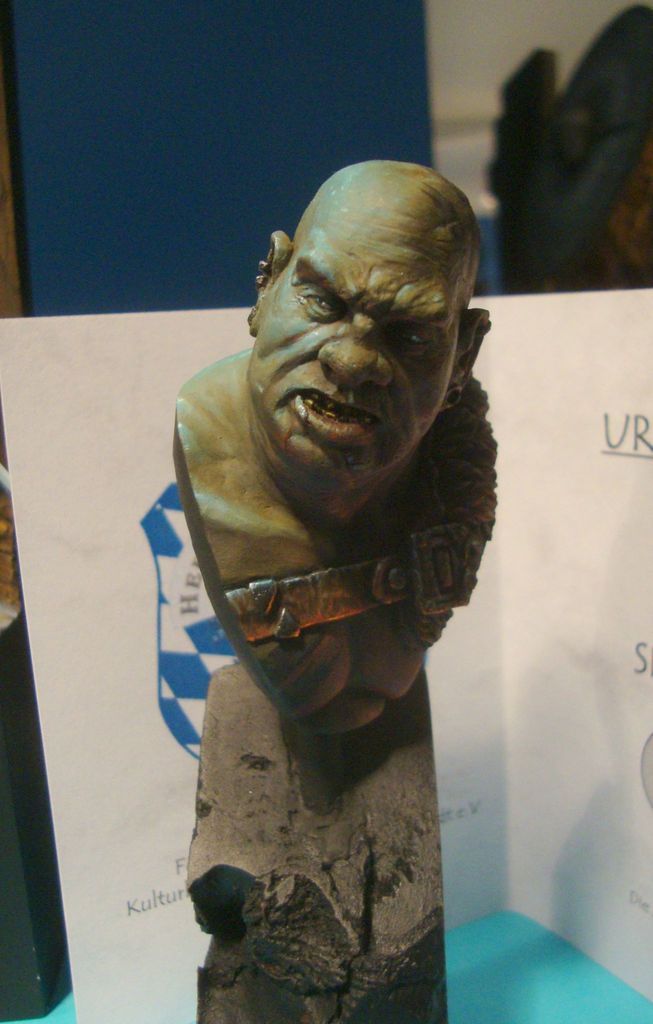 Generally speaking, the shadows on this bust are painted on.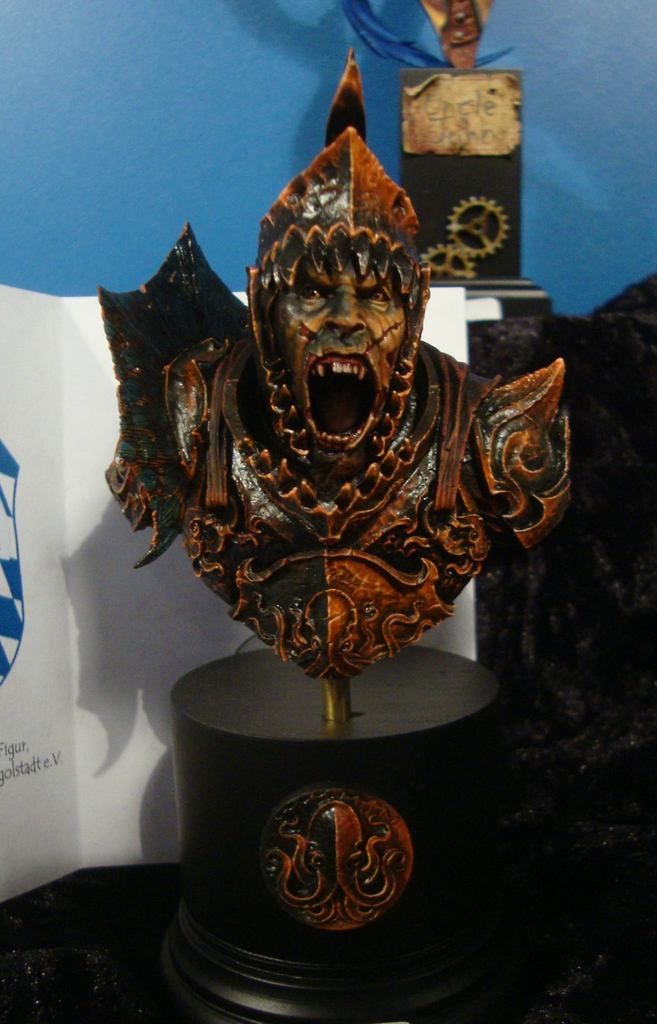 Sculpt by Raffaele Picca, painted by Ben Curry.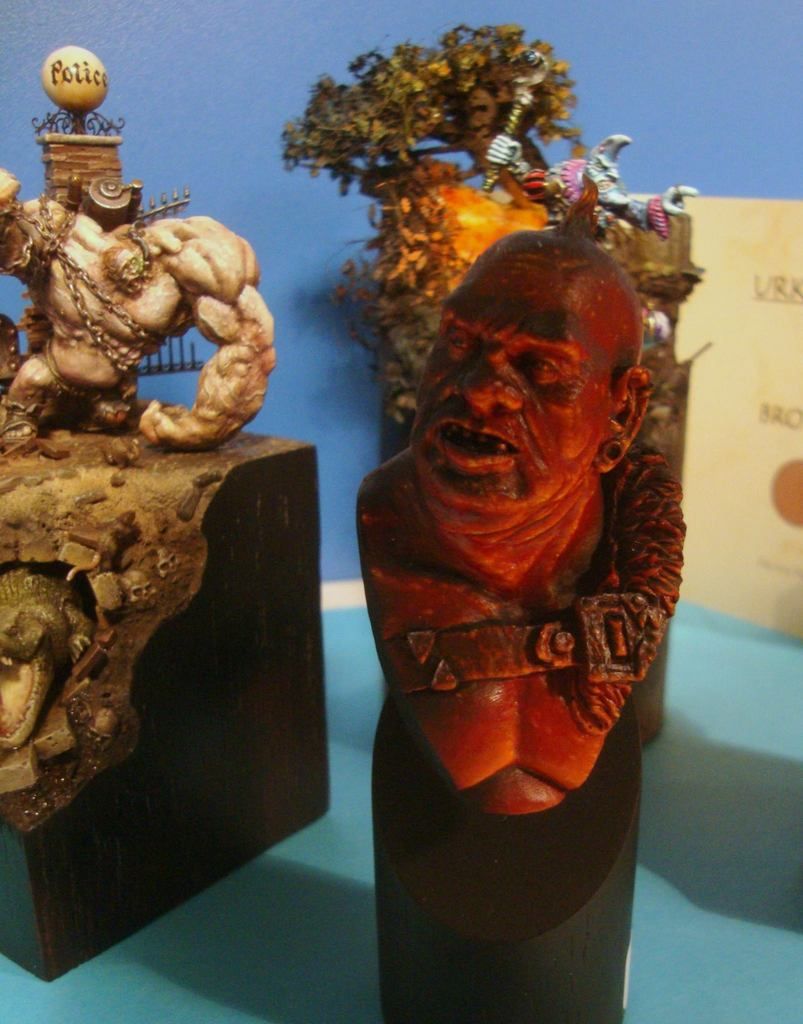 Painting the under-lit effect was popular.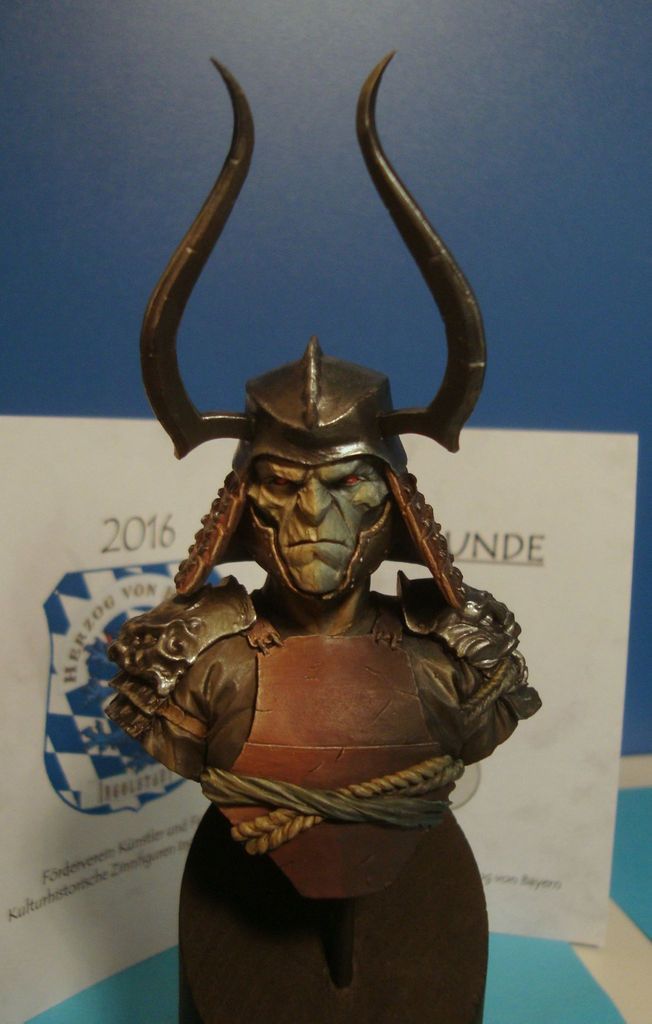 Painted by Peter Toth.
By Roman Lappat.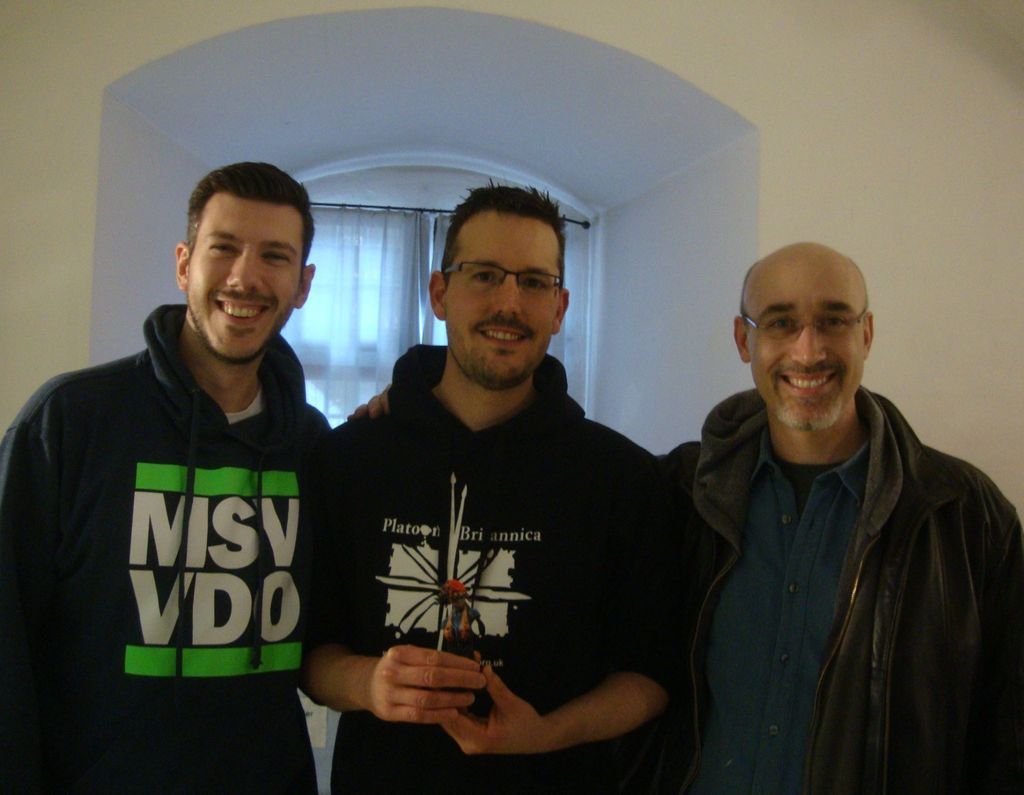 Raffa, Ben Curry, and me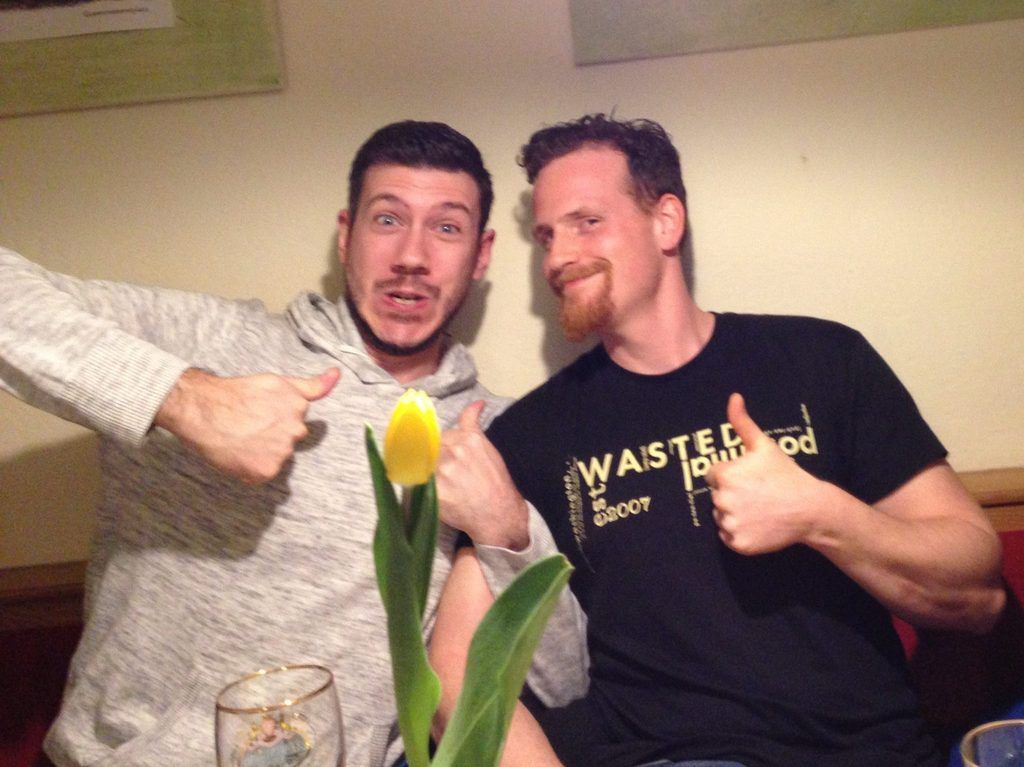 Dinner with Raffa and Phillip, founder of Putty & Paint.
New friends! I spent a long evening chatting with these fine folk at a BierGarten, and then I enjoyed a pleasant breakfast with them the next morning.
Coffee break downtown from the Duke of Bavaria.
Beef magazine! Oh my God, Beef!
Raffa and I had a game-plan of activities for the week. Generally speaking, I wanted to:
observe Raffa paint one of his own projects
observe Raffa prep a model and construct a base
paint an identical pair of miniatures side-by-side
have a focus session on non-metallic metals
be coached on a project
have both of us batch-paint a skirmish-size set of gaming miniatures and play a game!
I am led to the hidden jungle that is the Massive Voodoo studio.
The building is an old army barracks, repurposed to house an artists' community.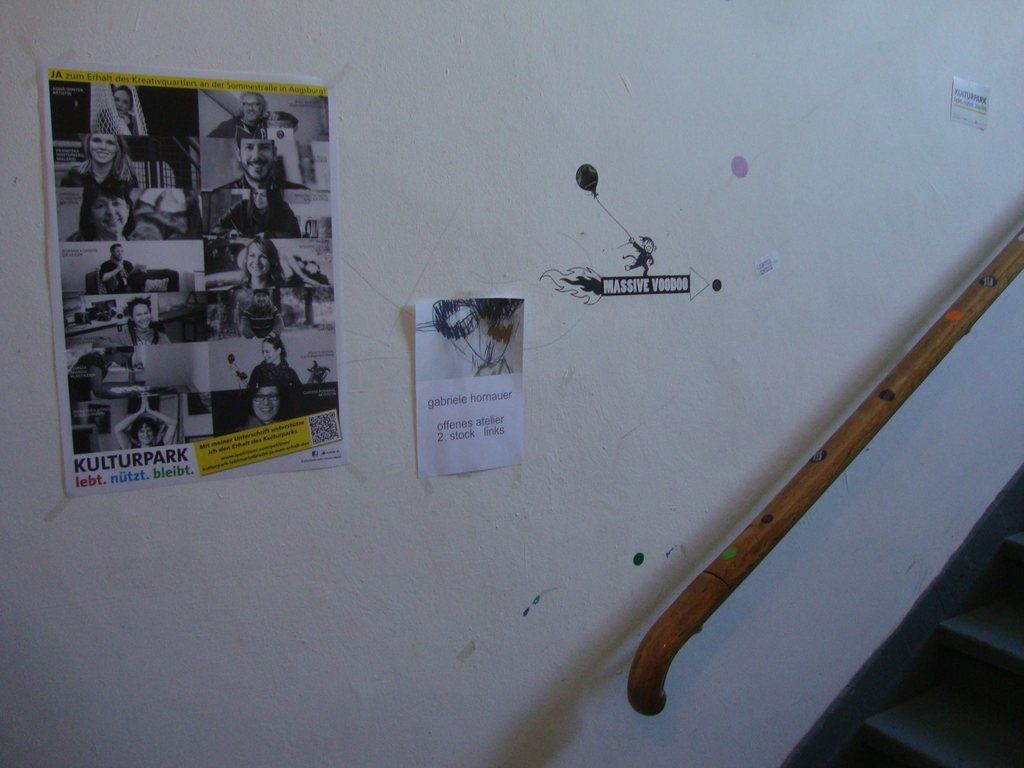 The hidden bread-crumb trail to Massive Voodoo.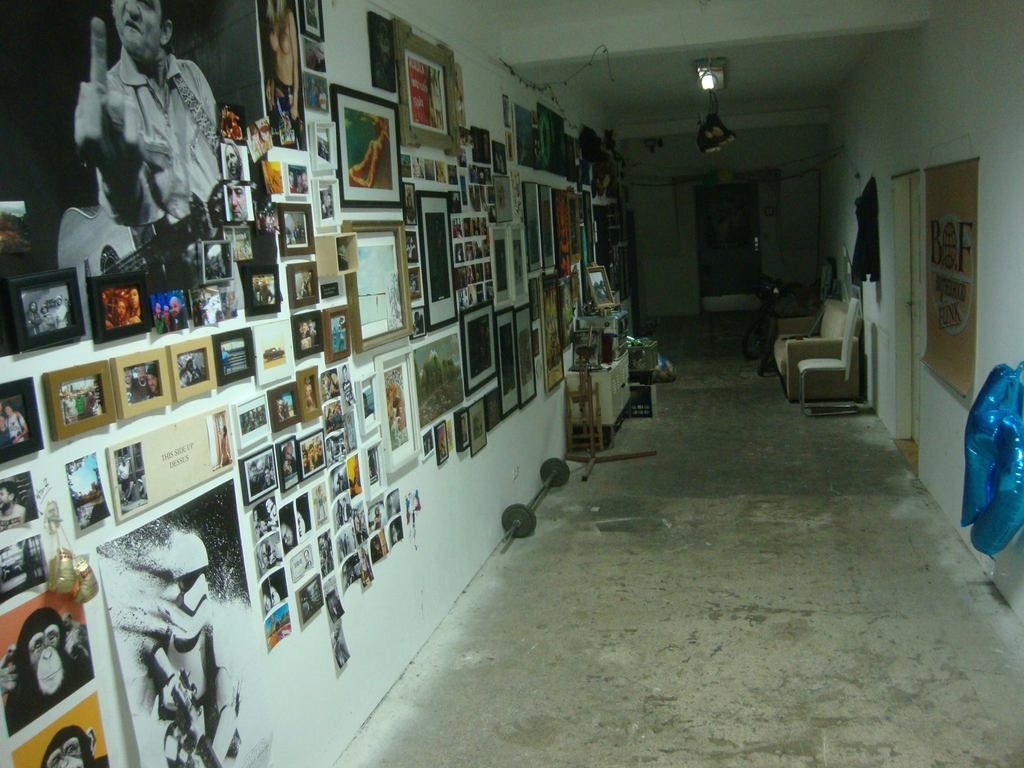 The famous Massive Voodoo mural-wall, full of incredible art and memorabilia.
The Medusa took my breath away. It is a potent, powerful piece. Painted by Raffaele!
Welcome to the Jungle!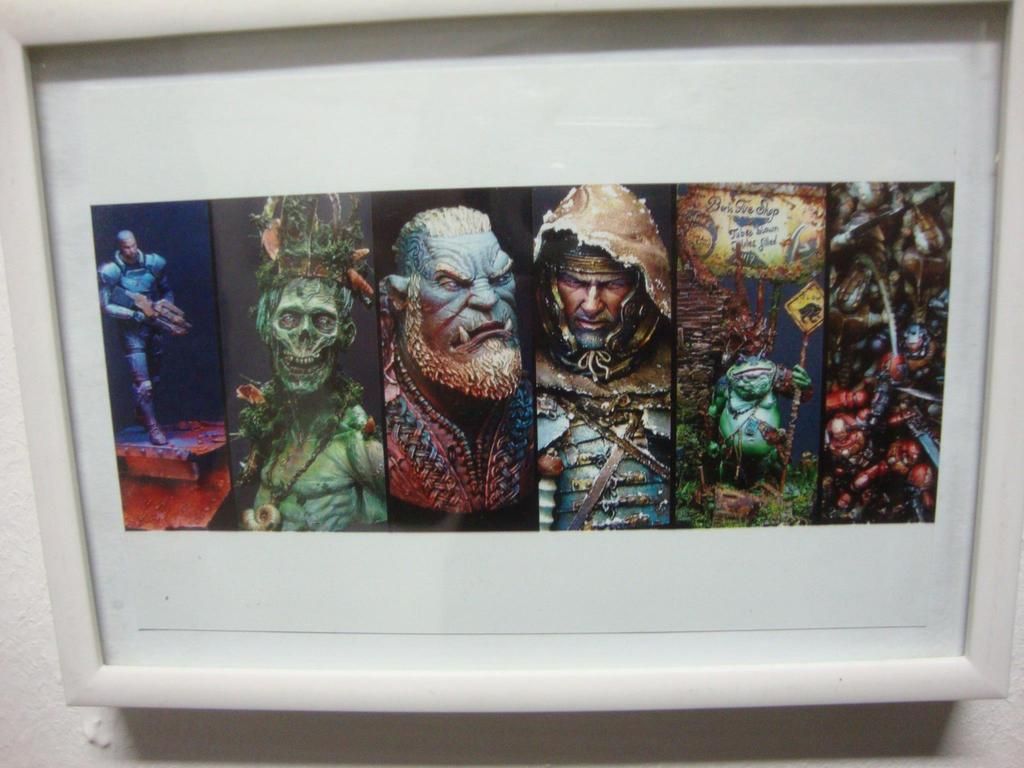 A small sample of the masterworks that emerge from this studio.
The heart of the studio.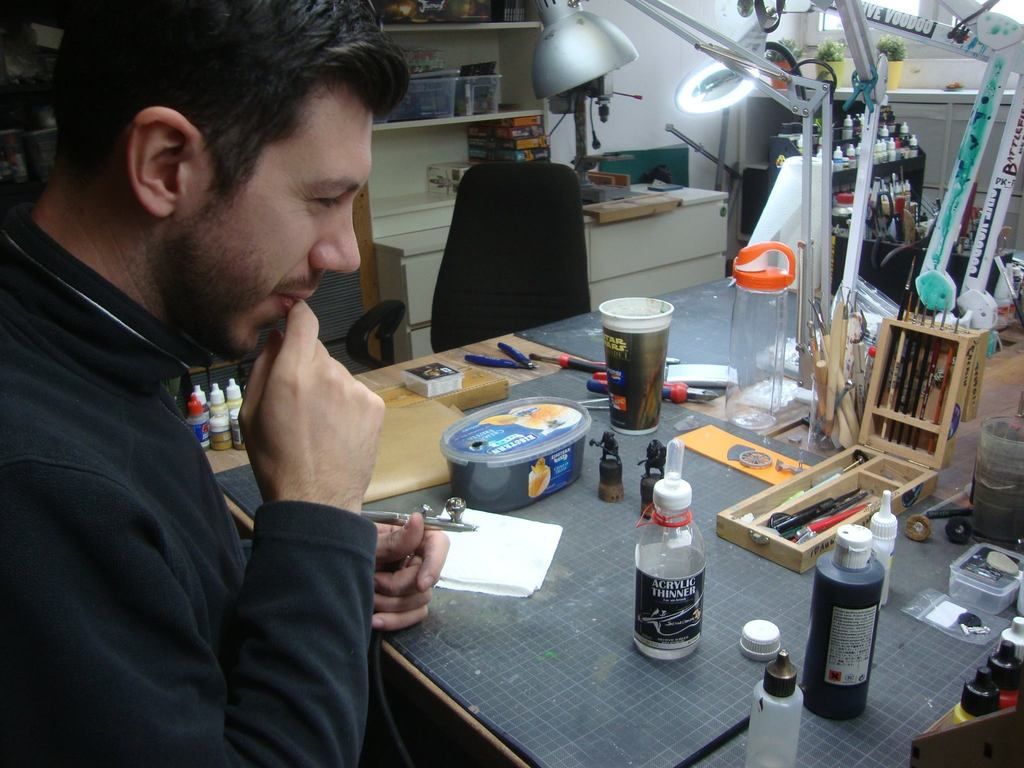 Raffa at his paint station.
Erik. Unfortunately, I didn't get a photo of Bene.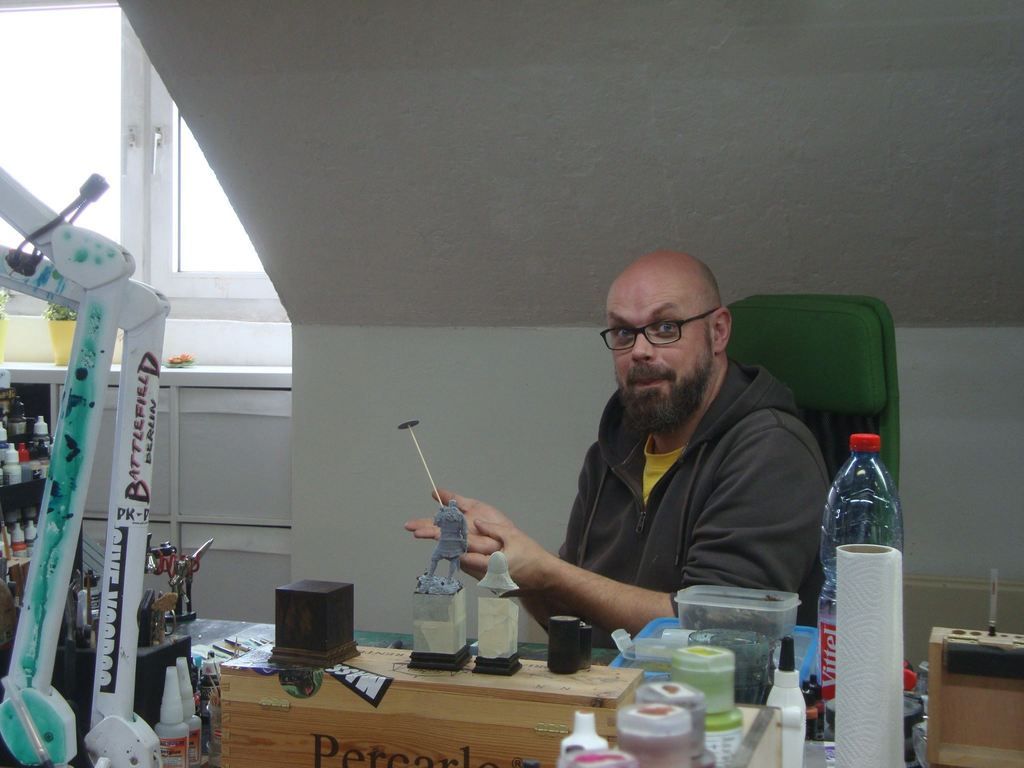 Roman.
We re-prioritized the plan along the way, as we discovered which activities were more instructive and a better use of time. We ended up consolidating a lot of the activities by focusing on one miniature, the Peter Punk Productions dwarf sculpt, Random Encounter.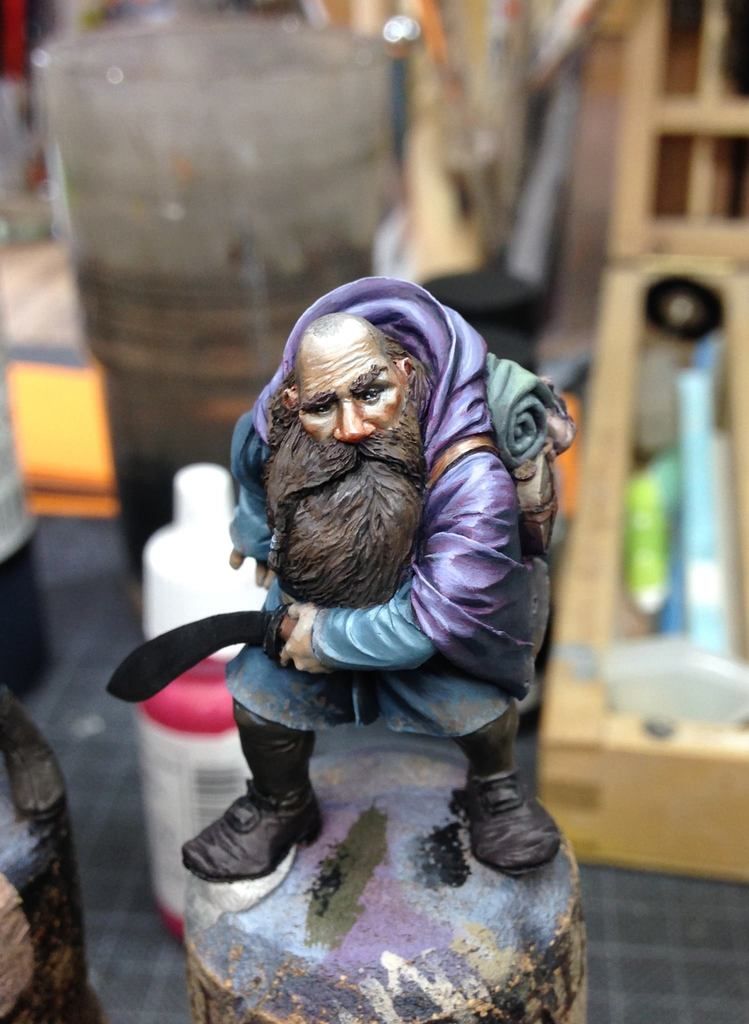 Our primary project, Random Encounter.
I painted about 75% of it, and Raffa would demonstrate how to paint the extra sizzle and special effects.
My main task was to practice painting to the highlights, which I almost never do normally.
Most of what I learned was actually accomplished by talking through art principles, while relaxing over coffee or lunch. These lessons were actually my fondest and most enlightening moments. Raffa has enormous patience and deep knowledge for fielding questions about making choices based on a variety of criteria, be they physics-oriented or aesthetic-oriented. He also has a great talent for communicating very clearly and precisely, especially considering he was instructing me in a language that is not his native tongue. At one point he even helped me find the right English word for something
I
was trying to say!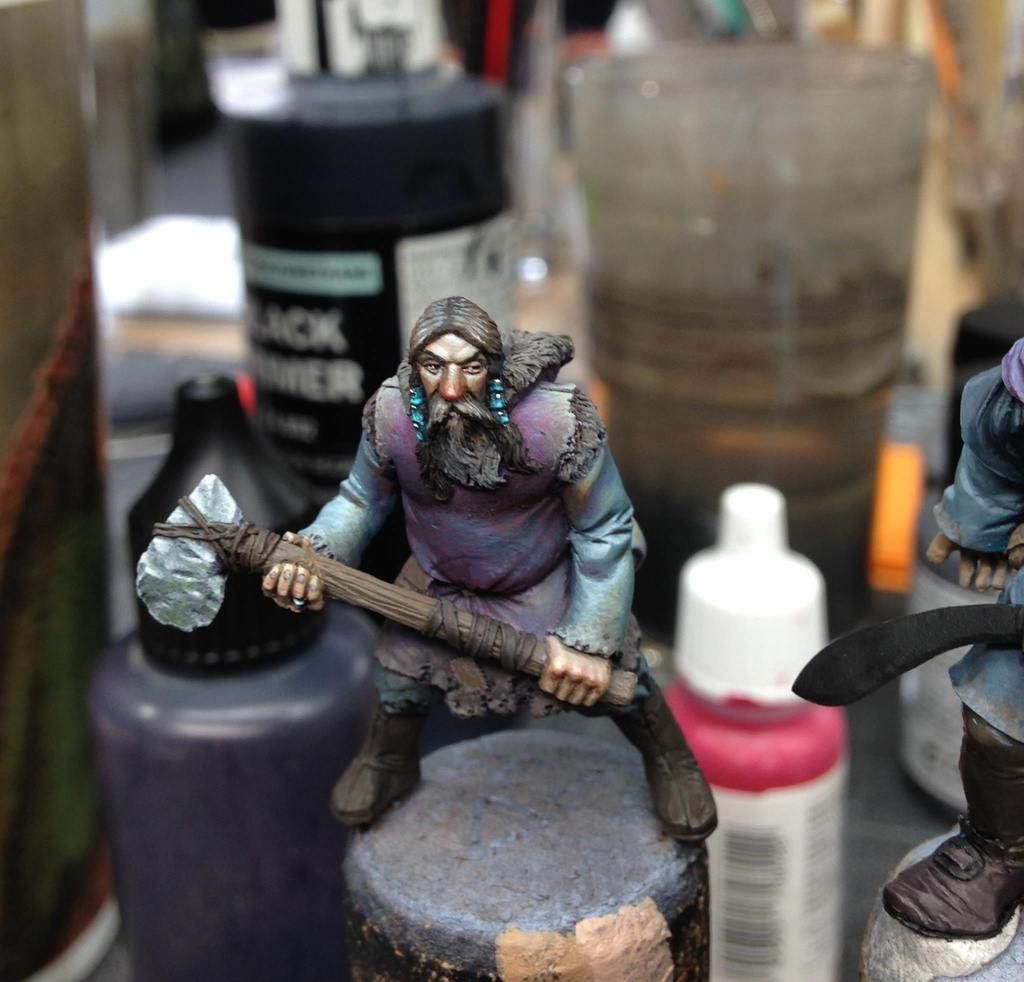 Raffa paced me, painting this figure in the same color scheme, so that he could demonstrate techniques against his own context.
I'm glad we were both flexible to deviate from our original plan. Doing so enabled me to learn things that I didn't expect to learn. For example, I learned why building saturation on top of a desaturated ground can be more favorable than going the opposite direction. Raffa demonstrated that concept on the back of a blister pack -- a valuable lesson that I might have missed, had we had adhered too strictly to our initial plan.
The finished piece.
Raffa scratch-built the wagon-wheel from balsa wood and toothpicks.
He completed the wheel and the base in about 3 hours!
We did manage to barely squeeze in enough time to assemble and paint one team each for Guild Ball. I chose Masons, and Raffa chose Butchers. Raffa rarely has the opportunity to paint gaming figures, much less actually play a game, so I hoped to at least give him a chance to dip his toe in that part of the hobby that started it all!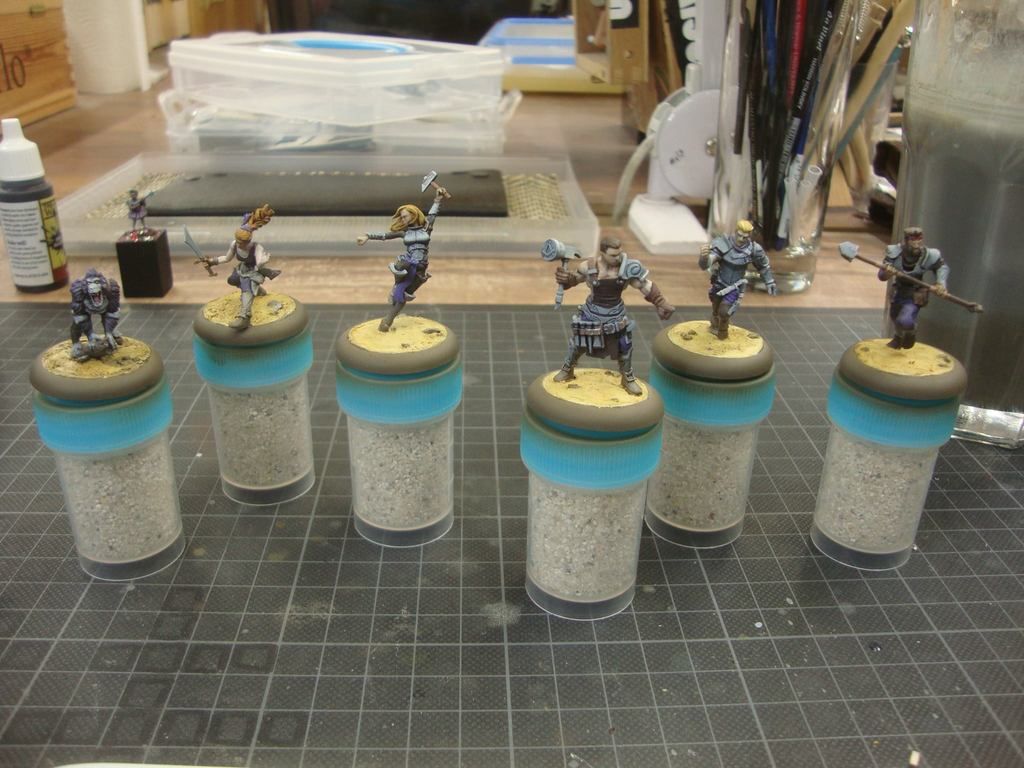 My Masons.
We ran out of time to go further than base-coats.
Raffa's Butchers.
Raffa sculpted a tutu and a tiara on the Butcher's mascot, Princess.
Butcher players the world over will 'squee', when this piece is finished.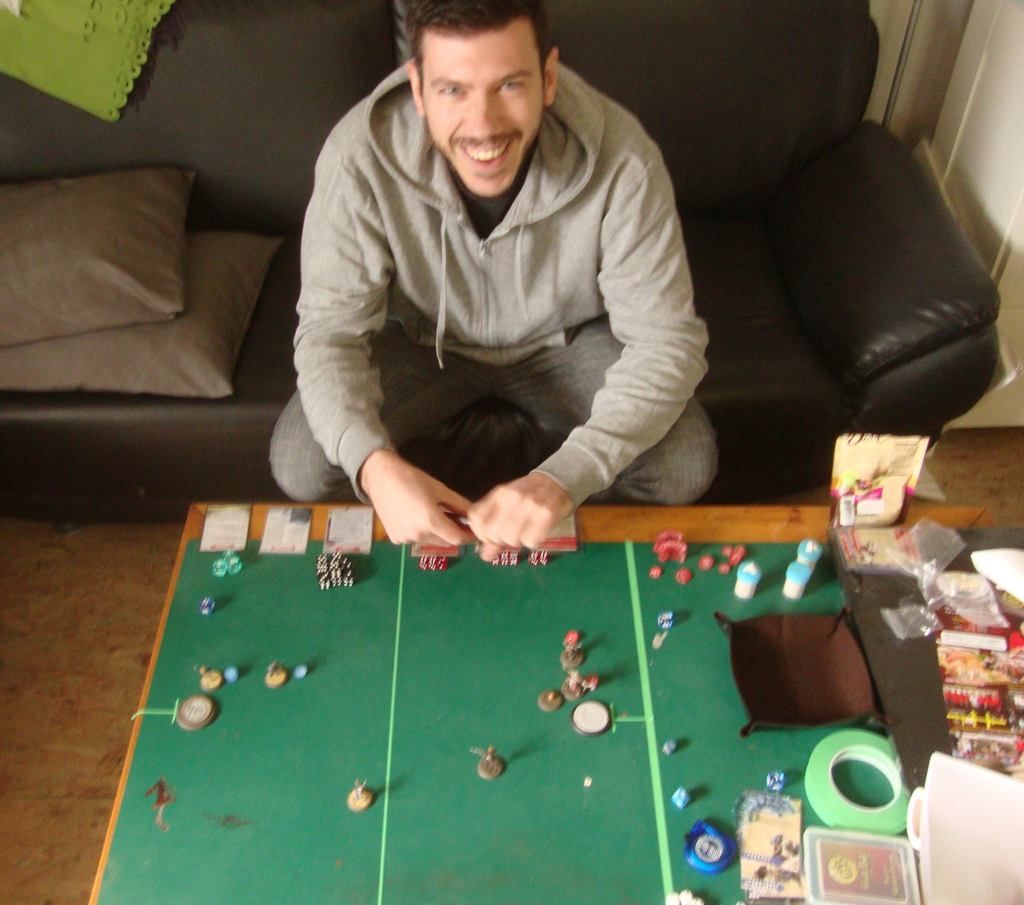 A new fan of Guild Ball!
And, yes, Raffa beat me, 6 to 4.
Rematch at NOVA Open, punk!
In short, I spent an incredible, memorable week with Raffa; his wife, Anci; Roman; the Massive Voodoo studio; and new friends at the Duke of Bavaria, and I wish to thank everyone for their care and hospitality. I relished the opportunity to totally immerse myself in an atmosphere of art, hobby, and German culture. Raffa and Roman are warm-hearted and generous gentlemen, who infect people not only with their passion for art, but with their warmth of spirit, too. The experience was a true lifetime high point, which I will treasure as a memory of joyous learning, child-like wonderment, and earnest friendship.
Our gangsta shot.